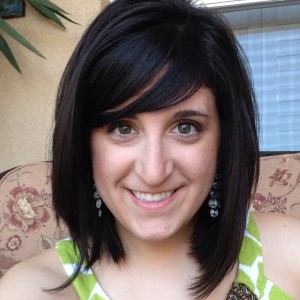 I am the author of Chastity is For Lovers (Ave Maria Press, 2014) and a staff writer for the Tampa Bay Times (the opinions published on this site and on my social media profiles are not representative of the opinions of my employer). I am a contributing writer at the Catholic Match Institute, the Chastity Project, and Ignitum Today.
I have a master's degree in rehabilitation and mental health counseling from the University of South Florida and a bachelor's degree in journalism from the same university.
On this site, my personal blog, you'll find posts designed to encourage critical thought about relationships and sex; to encourage readers who practice chastity; to provide insight into an alternative way of life for the readers who don't; and to explore how American culture impacts Christianity.
Bio
I was born, raised, and still reside in the sunny (when not hurricane-y) Tampa Bay area of Florida. My Catholic mom and Jewish dad opted to have me baptized Catholic as a baby. My dad converted to Catholicism the year I transferred from a public school to a private, Protestant one. His conversion and debates initiated by my mildly anti-Catholic teachers resulted in our studying Church teaching, side-by-side.
What I believe as a Roman Catholic was questioned frequently at the school, which I attended from fifth grade through twelfth, and I wouldn't trade the experience. In it, I discovered my passion for Catholicism, and in Catholicism, I met Jesus, who is my savior, friend, and role model.
My other passion is writing. My oldest clear memory of writing is of the time I spoke a story aloud so my mom could use her typewriter to type it. I was six. She was patient.
Writing, for me, was underlain by a love for reading, cultivated by practice, and supported by all the people I forced to read each finished product. (Shoutout to the neighbors who didn't get mad the time I littered your lawns with the "newspaper" I wrote.)
I don't remember deciding that I wanted to be an author; pretty sure I was born that way. By my sophomore year of high school, I also wanted to be a journalist. In a series of profoundly humbling events clearly arranged by God, I started writing for the Times as a correspondent in my senior year of high school, joined the Times staff the summer before I graduated from college, and was invited by Ave Maria Press in 2013 to write a book.
My goal, regardless of the publication, is for what I write to make readers think (bonus points for readers who laugh or cry). That I do what I do for a living is a privilege. That you are here, supporting me in it, means more to me than I can express adequately. Your prayers as I continue to pursue my calling and career are appreciated.
Connect
I can be reached via email, on Twitter, on Facebook, and on Google+.
Acknowledgments
J. Alex Sánchez designed my header and logo, Brendan Fitterer took my headshot, and John R. Meese did a heck of a lot of hard work behind the scenes in prep for this site's launch. To each, I extend unending gratitude.